Hello
If you're like me you don't need much of an excuse to celebrate. Well, Cinco de Susie here is ready to Vamos a Celebrar con Fiesta!!!!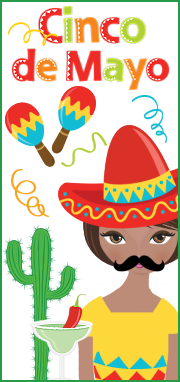 No major news or fancy post today. I've got to go work on my first DT project and tons of family birthday cards and not to be forgotten Mother's Day cards. I will be posting them soon!
In the meantime take a look at this crazy card I made for Cinco de Mayo! Isn't it fun?!!! Just makes you want to party!!
OLE!!!!
Enjoy your weekend!